Making a TED-Ed Lesson: Bringing a pop-up book to life
2,858,362 Views
3,283 Questions Answered
TED

Ed

Animation
---
Let's Begin…
In 'The Pangaea Pop-up' Lesson, animator Biljana Labovic decided the best way to illustrate moving, shifting tectonic plates was to use a physical object that could also move and shift. Here, Labovic explains how she and her team of animators created a pop-up book to visualize Pangaea -- and how you can make your own.
Create and share a new lesson based on this one.
Additional Resources for you to Explore
Pop-up books have been popular for an incredibly long time. Check out this
Smithsonian Institute Exhibit
link to see how paper engineering is done and some wonderful and unique pop-up books. The video:
Fold, Pull, Pop, Turn
shows the awesome detail put into creating a pop-up and paper engineered creation. Watch it and get inspired to make your own paper engineered art.
If pop-up and movable books are something one is interested in, there is a group called
The Movable Book Society
is a community of book collectors, working paper engineers, aspiring paper artists, and just people who really enjoy this particular media. Here is a blog page of
Kyle Olmon
, one of the members of the Movable Book Society. He currently teaches a class on Pop-Ups at Pratt Institute.
Historians say the first pop-up or moveable book was created in the 1500's. Where did they originate? How were they made?
What materials were used? Go
here
to discover the early history of moveable books!
The Pop-Up lady
has some great examples and insights into the "POP-ularity" of these unique treasures at her website, take a look!
Want to be a paper engineer? All the tools to create a pop-up book can be bought at any art or arts and crafts store, or if you want professional grade materials/supplies, there are places like
Talas.

If one is interested in learning more about making of the pop-ups, the essential guide is the book by David Carter and James Diaz called:
THE ELEMENTS OF POP-UP,
A Pop-Up Bok for Aspiring Paper Engineers. This book gives you a breakdown of all the basic elements and structures, how to build them, and the mechanics for the movable pieces such as pull tabs, wheels and so forth, from the most basic to the fairly complex. Read and find out how to make your creations "pop."
Another helpful source for the beginner is looking up
Robert Sabuda
, one of the biggest names in pop-ups today and over the last decade. Here on his website, there is a section with explanations of pop-up basics, as well as printable templates accompanied by step-by-step photos of how to put together some fun pop-up cards with various levels of complexity. Get started and make some projects to share!
There is a ton of other source material for paper creations. The two below are helpful at explaining how to utilize the most basic folds to create much more complex designs. One book is the
Pop-Up Book: Step by Step Instructions for Creating Over 100 Original Paper Projects.
You can also try
Kirigami
, a combination of origami and pop-ups.
For more books by the creator of this lesson check out this
site!
What better way to represent a beautiful landscape than with a pop-up book? Check out
America's National Park Pop-Up Book
. Why would this be a great way to raise money for National Parks?
Love to recycle? Recycle those old books sitting on a shelf in your house into new art creations. Create your own version of a pop-up book like the one shown below, or create your own
book art
. Recycle, create, and share!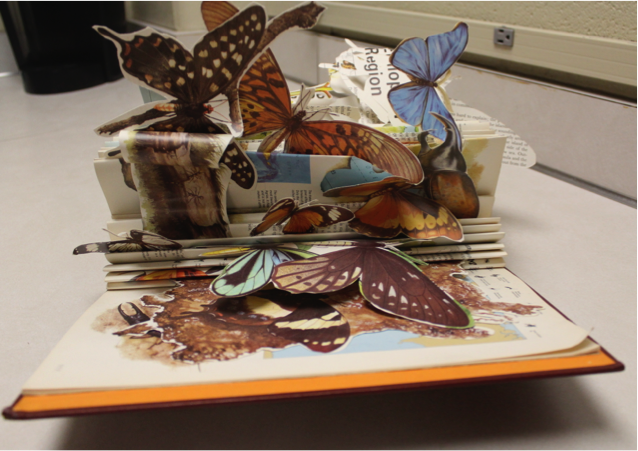 TED-Ed
Lesson Creator
New York, NY
Create and share a new lesson based on this one.
More from Animation Basics