The poet who painted with his words - Geneviève Emy
329,261 Views
7,085 Questions Answered
TED

Ed

Animation
---
Let's Begin…
Among the great poets of literary history, certain names like Homer, Shakespeare and Whitman are instantly recognizable. However, there's an early 20th century great poet whose name you may not know: Guillaume Apollinaire. Geneviève Emy shows how during Apollinaire's short lifetime he created poetry that combined text and image in a way that seemingly predicted a artistic revolution to come.
Create and share a new lesson based on this one.
Additional Resources for you to Explore
Want a few more details about Guillaume Apollinaire?
Visit this site
.  Apollinaire concluded his
famous Paris lecture
[in French] by saying, "Poets will mechanize (computerize) poetry one day, just like other things in the world have been mechanized. They will provide a completely new lyricism driven by the motion now taking place with the phonograph and cinema. This poetry is now in its infancy. But watch out, it will soon speak for itself, and a new spirit will fill the universe and manifest itself in the field of letters and art, and in everything that is known." (translated by Mary Ann Sullivan) What do you think of this quote? Did his prediction come true?
Did you know that one of Apollinaire's most famous works,
Lettre Océan
, is a part of
Poems Of Peace and War
which constitutes the first part of Calligrammes? It was written on June 15th, 1914, and sent to his brother Albert, who was then in Mexico City. It is the very first calligram.  The title evokes a reality that exists no longer today. The "lettre-ocean" was a message transmitted by wireless telegraphy from one ship to a receiving ship by the service of TSF. ("telegraphie sans fil") It was taken from the receiving ship to the post office on the ship's first stop. This often took several days or even weeks to arrive.
How do you begin to read a calligram when the poem renders an impression of simultaneity?
This simultaneity is due to mixed biographical details, memories, and past and present facts on the same level. But regarding the sense of the poem, there are some explanations. What do we see and understand? Let's take a look!
- In one of the first globally linear groups, Guillaume sends a letter from Germany that says: "I was near the Rhine," to his younger brother, Albert, who travelled to Vera Cruz. The second sentence sounds like a sort of ubiquity: "Your voice comes to me in spite of the big distance."
- The second linear group, (under the wavy incised lines) is made with fragments of Albert's postcard. (REPUBLICA MEXICANA TARJETA POSTAL). It has 2 mimetic representations of the mail stamps on the left and on the right; some details refer to Mexican history and Juan Aldama, who was a murdered patriot. It also refers to a boat.
- A first circular spatialized group compound of twelve "beams" emanating as waves from the Eiffel Tower, to which is added the vertical mention "TSF." This is connected to the development of wireless telegraphy. These beams "sound" like rumors of the city and include the words, "Please Stop coachman." They also include political sentences like "God save the King."
- The third linear group is mysterious, and is translated as: "Hello you will never know the Mayas." In the Mayan language, "anomo" means "hello" to a man, and "anora" means "hello," to a woman. But, who is the "you" in this section? It could be Guillaume or Albert. Then, under the word "MAYAS," Apollinaire inserts a memory which reads: "Do you remember the earthquake?" The earthquake evoked here took place, in fact, on March 4th 1887. There was also an earthquake which caused several deaths in the Riviera on February 23rd 1887. Is this event evoked from thoughts by Guillaume or by Albert? It is most probable that it was from Guillaume, who was six years old at that time, while the younger Albert was hardly five.
- The second circular shape is more important spatially than the first one. "Lettre Océan," establishes a compound calligram in a particularly balanced and symmetrical way. It also consists of twelve "beams" emanating off the Eiffel Tower. These sentences describe Guillaume's ordinary life in this way: "And how I sneak a free ride with my woman" (it is slang) and "the traveler Guillaume Apollinaire takes the train to visit his mother who lives in Chatou." Some other sentences in this group are incomplete, as if we heard fragments of conversations or noises of Paris, these include: "a peddler sells his cream cheese," "the Eiffel Tower," "warning alarms," "the sounds of gramophone," and "the sounds of poet's shoes."
"Lettre Océan," is characterized, in particular, by a very strong reference anchoring of diverse orders including private information about both himself, Albert, and his mother's residence. It also includes technology (the telegraph, the Eiffel Tower, the gramophone), aesthetics, history (political situation of both France and Mexico), mathematics and numbers.
The aesthetic choices of Apollinaire are confirmed with this calligram.  These include the practice of sampling, the use of collage, the taste for the simultaneity of intimate thoughts with the outside world, ubiquity, sounds and visual effects. His poetry is a wonderful example of modern poetry, which tries to include everything.
During the war, Apollinaire wrote calligrams, letters, and lyric poems to his love, Lou. Here is an example of one: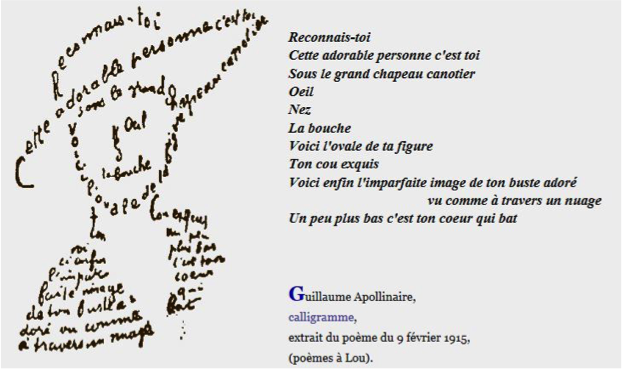 Here is the translation of this calligram. This poem is a good example of poetic purpose, rhythm, music, and lyricism. Read it and see what you think. 
Recognize you
This adorable person that's you
Under the large boater straw hat
Eye
Nose
The mouth
Here is the oval of your face
Your exquisite (delightful?)neck
Here is at last the imperfect picture of your beloved chest, seen as through a cloud
Further down it's your heart beating
Want to see more of his work? 
Click here
.

TED-Ed
Lesson Creator
New York, NY
03/16/2016
•
/
32 Updates
Create and share a new lesson based on this one.
More from Reading Between the Lines