TED-Ed Weekend 2020: Meet the Speakers!
By Nina Medvinskaya on December 19, 2019 in News + Updates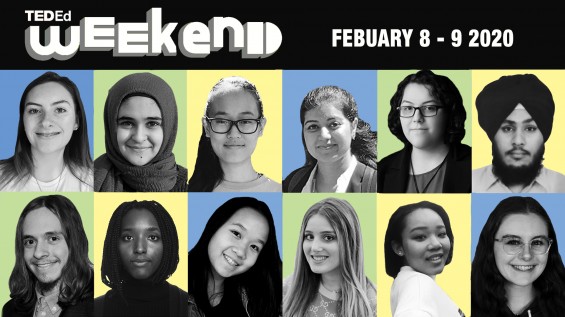 TED-Ed Weekend returns on February 8th, 2020! This full-day event amplifies the voices of TED's next generation by inviting students from around the globe to share their ideas right from the TED stage in NYC. This is TED's only official event featuring an all-student audience and an all-student Speaker lineup! The event will offer an abundance of inspiring ideas, interactive workshops, and a peek behind the curtain of TED's New York City Headquarters.
Meet the 2020 TED-Ed Weekend Speakers below!

Canda Atalay is an aerospace engineering student at Middle East Technical University in Turkey. She developed an early passion for space by watching documentaries when she was in kindergarten. Since then, she's been chosen as one of 24 Under 24 Leaders and Innovators in Space by The Mars Generation and was nominated by Microsoft Turkey as a future star candidate for Women Leaders in Technology. Canda is proud to represent women in engineering and to work towards changing the problems they face. In her free time, she enjoys drawing and painting, and also watching dog videos for a good laugh.
Amira Bashbishi is a freshman at Sir John A. Macdonald High School in Canada. She chose to speak about residential schools after learning about the injustices still happening in Canada. Something she is especially proud of is wearing the hijab. It was a big transition that made her appreciate her roots. Amira also loves acting and being onstage, and relaxes by watching episodes of her favorite comedy show.
Esther Burungibwe is from Uganda, and is currently a first-year student at Sechenov University in Russia. She chose to talk about reflection after hearing a message on seven ways to stay spiritually strong. Esther doesn't know why, but she's good at memorizing people's birthdays and price tags! She also loves reading Lucy M. Montgomery and Mark Twain stories because they make her smile.
Ananya Grover is a 12th-grade student at Amity International School, Noida in India. After witnessing the stigma related to menstruation, she researched the topic and took action with her classmates. She believes breaking the silence is the first step towards period positivity. Ananya also runs Reflections Magazine, an online platform for teenagers that encourages free creative expression, and she developed Maitri, an Android app that connects old age homes with orphanages to improve social health. Something most people don't know about Ananya is that she's a trained Kathak dancer!
Alex Kennedy is a 16 year old from Dublin, Ireland and is very proud of where she's from. Currently, she's in her 5th year at Larkin Community College. One thing people may not know about Alex is that she's good at learning song lyrics, and loves watching videos of her favorite YouTubers.
Suzu Kitamura is from Kyoto, Japan, and is currently a first year student at Doshisha University. She wrote her spoken word Talk, An open letter to perfectionism, as her senior speech during her last year of high school. It's the first and only spoken word piece that she's written! Something people may not know about Suzu is that she was a proud debate kid in high school, and still misses it to this day.
Joanna Li is from Sydney, Australia and is a 9th grade student at Meriden school. One day Joanna saw a fish online which she thought was amazing, but made her friends cringe. It turned out to be the blobfish, deemed ugliest animal in the world, and that's how Joanna found her Talk topic! In addition to being a blobfish advocate, Joanna's also weirdly good at making connections with things (she once linked the smell of a friend's jacket to McDonald's hand soap).
Ethan Lisi is from Pickering Ontario, Canada. He is in his first year at Ryerson University. His mother's recent autism diagnosis inspired him to talk about his own experience with autism. While some of his friends know about his singing ability, not many of them know that he has perfect pitch! In his free time, Ethan loves watching his dogs play.
Jennifer Moglia is a 16-year-old high school junior from Mineola, New York. Jennifer's Talk is about her experience of managing an anxiety disorder through sports. She's most proud of her involvement in sports journalism, and was thrilled to cover the National Women's Hockey League's championship game in 2018! When she isn't watching or writing about sports, Jennifer loves to play ukulele, go to concerts, participate in poetry slam events, make macaroni and cheese, and spend time with her cats and friends. 
Anant Singh Sodhi is from India, but now lives in the United Arab Emirates. He studies film in New York University Abu Dhabi, and is proud to be on full scholarship there. In addition to being a busy college student, Anant's really good at mimicking many of his family members, and loves laughing at his old school notes and textbooks.
Avery Stark is from Parkland, Florida. She is an 11th grader at Saint Andrew's School. When Avery joined Student Talks, she knew she needed to talk about the growing population of young people who experience second-hand trauma as a result of the current school shooting epidemic and the need for a more inclusive approach to healing. Though her passion for this topic came from her experience, Avery hopes others will learn from what her community experienced. She's most proud of her involvement with the Make Our Schools Safe Organization and with her local BBYO chapter. Also, most people don't know this, but Avery's great at creating the perfect Spotify playlist!
Pavarisar (Praeh) Vijitakula is from Bangkok, Thailand. She is an 11th grader at KIS International School. Praeh decided to join TED-Ed's Student Talks program because she was struggling with an eating disorder and was trying to find a way to express herself and overcome the struggle. Now she's giving a Talk about her journey at TED-Ed Weekend! Something most people don't know about Praeh is that she loves observing unplanned reactions and behaviors because she thinks they are hilarious.
Audience applications for this year's TED-Ed Weekend are now closed, but don't worry — you will have plenty of opportunities to watch the sessions and connect on the day of the event. Stay tuned for more info on live streaming opportunities coming soon!
In the meantime, make sure to check out TED-Ed Weekend Talks from previous years! And to learn more about TED-Ed's Student Talks program visit ed.ted.com/student_talks
Tags:
TED-Ed Student Talks
,
TED Stage
,
TED-Ed Weekend
,
Youth Voice