An animator's take on Mary Shelley's "Frankenstein"
By Lisa LaBracio on November 7, 2017 in TED-Ed Lessons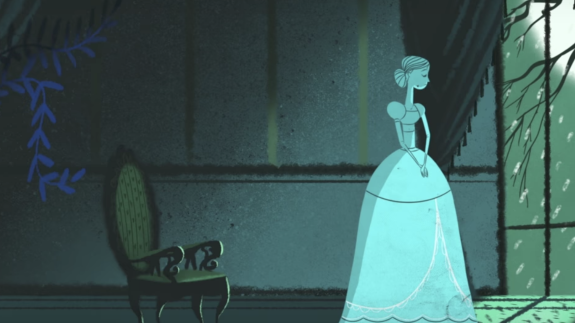 You can find everything you need to know to read Mary Shelley's classic novel "Frankenstein," in this TED-Ed Lesson. But honestly, we're just so wowed by the beautiful backgrounds in this lesson that we wanted to share some of the background and atmosphere designs with you! Here are a few favorites:
Above is the house of Lord Byron on Lake Geneva, where Mary and Percy Shelley spent their vacation in 1815. This was shortly after the eruption of Mount Tambora, which plunged parts of the world into darkness and marked a gloomy period that came to be known as The Year Without a Summer. Since they were stuck in a creepy house, Lord Byron proposed a challenge: Who could write the most chilling ghost story? This question sparked an idea in eighteen-year-old Mary Shelley who, over the next few months, crafted the story of "Frankenstein."
Above is an image of Mary Shelley diligently writing. We love the composition and the use of color and shadows in this overhead shot of Shelley penning her famous novel.
Shelley was heavily influenced by the art and literature of the Romantic Period. Above, director Silvia Prietov uses the only somewhat sunny colors in the entire animation to describe the Romantic's appreciation for nature, emotion, and the purity of art. This scene starkly contrasts the otherwise gloomy house and the fierce and fiery colors of the scenes in Frankenstein's lab.
And finally, above is a delicate design depicting Mary Shelley at the window as we learn more about her life and past leading up to writing "Frankenstein". We're swooning over the details hiding in the shadows, the color choices, and the mood created in this scene, which invokes a pensive and rainy day.
To see all of the lovely art from this lesson, and to learn about the origins of "Frankenstein", watch the TED-Ed Lesson below.
Animation directed by Silvia Prietov, designs by Andrés Felipe Landazabal. To learn more about animation, watch TED-Ed's series of videos on ed.ted.com called Animation Basics.
To get brand new TED-Ed Lessons delivered to your inbox each week, sign up for the free TED-Ed Newsletter here >>
Tags:
Books
,
Frankenstein