10 great books recommended for students, by students
By Laura McClure on April 5, 2017 in TED-Ed Clubs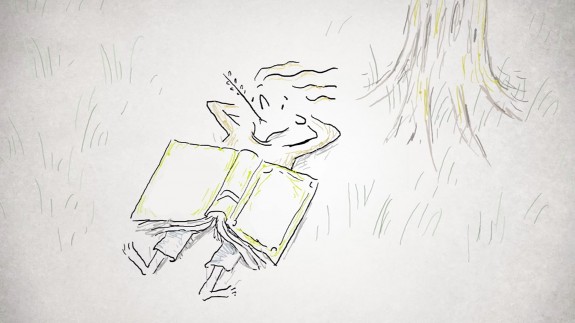 Every great book is a portal — to adventure, to knowledge, or to new perspectives. Beyond the world's required reading list, what books do high school and middle school students love to read? We asked TED-Ed Club Members around the globe to share their favorites. Below, check out 10 great books recommended by and for young people:
1. The Outsiders by S.E. Hinton
Susan Eloise Hinton wrote The Outsiders while she was a high school student in Oklahoma. Fifty years later, her fictional account of two rival gangs still provides a riveting look at teen friendship, rebellion, and class issues. Bonus: it "teaches us how to be more tolerant," says Artem Kotov, a student in Moscow, Russia.
2. The Fault In Our Stars by John Green
This heartbreaking, beautiful novel comes highly recommended by Libby Driscoll, a student in Shropshire, England. "It has a deep, sensitive main character who expresses her emotions so well and brings tears to my eyes every time," says Libby.
3. Tools of Titans by Tim Ferriss
The author interviewed more than 200 experts, industry leaders, and top athletes about their personal tools for success — and then published their tips in this nonfiction book. It's recommended by Nguyen Mac, a student in Warsaw, Poland. "This isn't your typical self-help book," says Nguyen.
4. The Wrath and the Dawn by Renée Ahdieh
In this retelling of A Thousand and One Nights, the female protagonist is a seriously strong character, capable of more than just defending herself. "I have reread this duology (the first book being The Wrath and the Dawn, the second being The Rose and the Dagger) about 7 times now. I love it more every time," says Irfhana Zakir Hussain, a student in California, USA.
5. The Labyrinth of Spirits by Carlos Ruiz Zafón
This novel comes highly recommended by Donatella Galeazzi, a student in Puebla, Mexico. "Read it in Spanish" to boost your vocabulary, suggests Donatella.
6. I'll Give You the Sun by Jandy Nelson
This bestselling novel about two twins is recommended by Thu Ho, a student in Ho Chi Minh, Vietnam. Why? Because the book is beautifully written, says Thu. Also, the language underscores "the realistic imperfection of the two main characters."
7. The 7 Habits of Highly Effective People by Stephen R. Covey
Millions of people have read this classic nonfiction book about how to live a principled life. This recommendation comes from Ridhima Behal Bharara, a student in Punjab, India, who calls the book "inspirational."
8. Looking for Alaska by John Green
The winner of several awards for young adult fiction, this novel is recommended by Simran Malhotra, a student in Georgia, USA. One reason? "It has a great moral," says Simran.
9. The Picture of Dorian Gray by Oscar Wilde
This strange tale has captivated readers since 1891. "The portrayal of Dorian's struggle with his outer appearance vs. his inner identity is something a lot of people can relate to," says Vitalia Vazheyevska, a student in Warsaw, Poland. "The characters are well thought-out, and every little element of the story is symbolic."
10. The Call of the Wild by Jack London
First published in 1903, this novel stars a sled dog named Buck — and describes the cold, brutal reality of the Klondike Gold Rush era. "You feel the raw power in every word," says Trisha Iyer, a student in California, USA.
To connect students in your community with students around the world, start a TED-Ed Club.
To learn something new every week, sign up for the TED-Ed Newsletter here >>
Tags:
Books
,
Reading List