Every student has a dream
By Laura McClure on September 12, 2017 in TED-Ed Innovative Educators, Interviews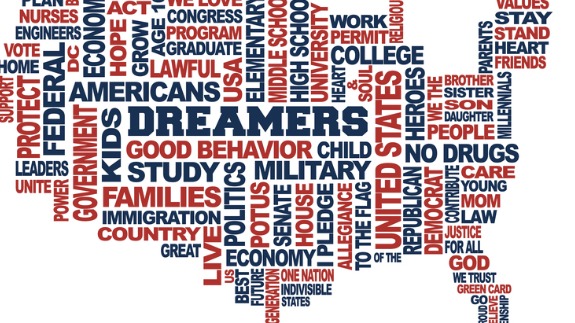 BIO
As a child, TED-Ed Innovative Educator Jacqueline Fernandez-Romero used to cross the US/Mexico border daily to attend school. Today, Jackie is the principal of the Latin American Youth Center Career Academy in Washington, D.C., which provides both a rigorous academic model and career preparation in the healthcare and information technology fields. "Teaching students of color is something that I've always been passionate about, especially sparking their interest in the sciences and getting them more involved in STEM," says Jackie. "As a Mexican American woman, I feel that my experiences are valuable to the population I serve."
IDEA
For her TED-Ed Innovation Project, Jackie set out to create a documentary about the lives of four students who grew up in the US without lawful immigration status. Many of these students, aka DREAMers, were brought to the US as children in order to escape violence in other countries. As young adults, these students have already overcome many obstacles. Today they dream of continuing their studies and starting careers in nursing, engineering, and computer science. "I have always believed in all my student DREAMers," says Jackie. "I will continue to embrace my students in love, gather strength from their courage and resilience, and let them know they are not alone, now or ever."
INNOVATION PROJECT
How do students feel about the current political turmoil over the Deferred Action for Childhood Arrivals (DACA) program? Here's what some young DREAMers told Jackie:
"Why can't the President see that we are hardworking students who have earned the right to be in this country?" — student, 22 years old
"I want to live my life one day at a time. I do not want to think that I might have to go back to Guatemala." — student, 17 years old
"I was really sad when I heard the news regarding DACA. What am I supposed to do? My life is in this country." — student, 18 years old
"I did not have a choice as a child. I was brought to this country by my parents, who were escaping the violence in EL Salvador." — student, 24 years old
"I'm a DREAMer, and I'm ok with that, because everything I have ever done is with integrity." — student, 17 years old
"Undocumented students have been and will continue to be an asset to the United States economy." — student, 21 years old
Below, read one DREAMer's story about growing up in the US as an undocumented immigrant.
This student's dream is to become a nurse:
"I moved to the United States when I was 13 years old. When I came here, I didn't speak English, and my goal was to speak English after two years. I have been in many different struggles — bullying and discrimination and being made to feel that I was nothing in this country. But I learned English in two years! I have had a lot of experiences that make me strong.
When I first came to the US, it was very difficult. Every night I had bad dreams about monsters coming to kill me. Every morning I would wake up to hear a rat going around near my bed. But you just have to keep going, no matter what. I started to go to the church, and after I became Christian everything changed. Whenever I felt sad or lonely, I prayed. Thanks to God, whenever I needed something, He was there.
Sometimes I feel that my life is impossible, but then I realize that I have been working really hard, and that is what makes me keep going."
This article is part of the TED-Ed Innovation Project series, which highlights 25+ TED-Ed Innovation Projects designed by educators, for educators, with the support and guidance of the TED-Ed Innovative Educator program. You are welcome to share, duplicate and modify projects under this Creative Commons license to meet the needs of students and teachers. Art credit: iStockPhoto.
Tags:
DACA
,
Dreams
,
Immigration
,
Students
,
TED-Ed Innovation Projects