How do you animate a solar energy lesson….with crochet? A behind-the-scenes interview with Richard O'Connor
By Stephanie Lo on June 24, 2014 in Interviews, TED-Ed Lessons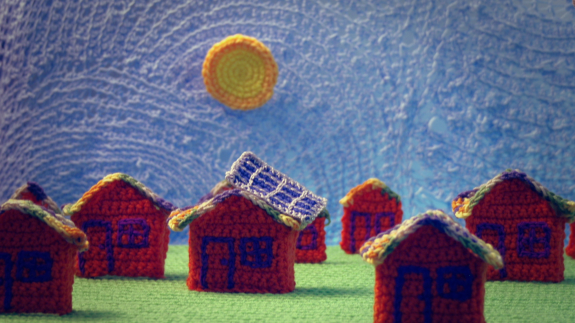 Every once in a while, a TED-Ed Lesson is animated in a way that leaves the audience asking, 'How in the world did they do that?' The Why aren't we using solar power? lesson, written by Alexandros George Charalambides and animated by Ace and Son Moving Picture Company, is one such example. We sat down with Animation Director Richard O'Connor to untangle the labor intensive effort that went into this lesson on solar energy.
How are you doing today?
Well, I'm okay. I got a serious turtle bite this morning. Once they bite, it's hard to get them off. They don't have teeth, but I have a welt on my hand.
Not what I expected to hear! What made you interested in animating this TED-Ed Lesson?
We had done some projects on solar energy for public television. I found [the concept] interesting and found this lesson to be a good introductory lesson for younger folks. This one I thought was nice because it was talking about something very important to the future at a sophisticated level, [but] for people a little younger than the general demographic and audiences that I usually speak to. [And I liked] the general overall subject. I've been reading a lot about the world coming to an end, and this is a nice counter to all the reading I've been doing.
How did you come up with the style?
It pretty much was just in my head based on reading the script. Whenever we do a project, we like to find the right voice for it — the right visual tone. The image that kept sticking in my head was the sun in outer space as this ball of yarn. These images that were coming from the script kept grabbing me … and I wanted to be able to visualize that stuff.
A big thing was that we wanted to make sure that this [lesson] was bright [and] fun-looking. [The] script is giving you a lot of information, so it was important that this be a bright, fluffy colorful thing about clouds and sun. And this [style was] inherently bright and fun.
Who did the crocheting?
Kristin Kemper did most of it, and I did a lot of it as well. She taught me how to [crochet]. She did the things that involved more of the modeling like the bunnies. I did the most of the flat surfaces.
Any tips for novice crocheters?
It's not as hard as you think. But if you want something to be perfect, you have to actually count and pay attention. Otherwise you wind up with weird diagonal things that don't fit. And for novice crocheters, once you've finished [crocheting] whatever you want, you can easily create a film out of it.
Any tips for novice animators?
Whatever you feel like doing, whatever inspires you, do it. If you read a poem and think, 'This poem is great. I should make a film about it,' do it. Whether that involves a lot of drawing or computer motion or stop motion with your iPhone. If you have an idea, it deserves to be heard.
This is the first time you've done this style. What is one lesson you learned from this film?
Part of it is something I knew already. It's a technical thing. With digital cameras, they have a default setting. And even if you have them set to manual, the iris resets each time you shoot which causes a flicker. I used the same camera as I used in The Making of the American Constitution, so I went into this project assuming my camera was left in the [correct] settings, but it wasn't. So now there's a slight flicker. So the lesson I learned is not a new one, but it's something to keep in mind when you make anything: double check everything. I knew it, but I didn't actually execute. Learning to follow the rules and standards that you've set for yourself is the lesson I re-learned. I also learned how to crochet!
How many hours did the crocheting take?
Oh boy. Many. Maybe 400 hours. It takes longer than you think it will.
That's a lot of time. Do you ever want to crochet again?
Well I have all this yarn left over, so I feel I need to. Everyone is going to be getting scarves as presents.
Tags:
Animation
,
Crochet
,
Richard O'Connor
,
Solar Energy
,
Solar Power