Bringing history to life: A Q&A with animator and children's book illustrator Els Decaluwe
By Alexandra Panzer on November 5, 2018 in Interviews, TED-Ed Lessons
In honor of our lesson on Anna Komnene —a Byzantine princess, scholar, physician and historian — we asked animator Els Decaluwe a few questions about the process of working on this piece.
What are the challenges of designing a character that you have no photographs of, only other artist's interpretations?
Before I start designing, I always try to look up some background information about the character. In Anna's case, I got the feeling that she was really ahead of her time. I really wanted to give my design the same aura without trying to copy other artists' designs. It's not about how she looks but about what she represents and who she was! For the hair I looked up several historical references and also got lots of help from educator Leonora Neville. I saw lovely complicated up-dos with jewels and decorations between braids. But I felt Anna was kind of a free spirit so she maybe would have worn her hair in a looser style. Not wearing too much jewelry, as it would get in the way of her writing. As for the clothes, I thought Anna should be "a badass in a dress."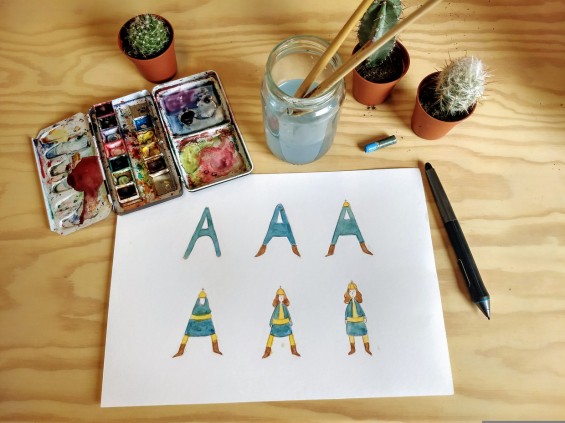 What techniques do you use in your process?
I'm a real big fan of classical 2D animation, and if I could, I would still make everything on paper. Because of time constraints, though, I traditionally only do the pre-production. Afterwards I digitally try to copy the feel of my traditionally-drawn images. Textures are my best friends and I spend a lot of time preparing traditional textures, to use in the digital coloring process. For the animation itself, I use a frame by frame animation technique. This means that I redraw every frame, so I make approximately 12 drawings per second of film. This is a time-consuming process that gives extra movement and charm to the animation, and to me it is totally worth it!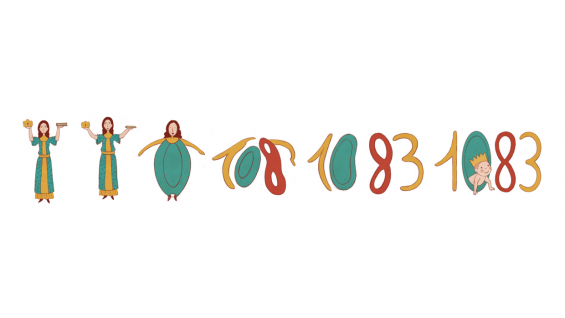 Which part of this animation are you most happy about?
The scene transitions were really important to me. Though it is a historical realistic subject, I wanted to add some magic to them. That's why I chose to use transformations in my animations. Anna turning into the year 1083 and than baby Anna coming out of the 0 was my greatest challenge. Animating transformations is like performing a magic trick: when they work well, it really puts a smile on peoples' faces! I also love the scene where Anna was reading at night. As I am also a children's book illustrator, I like putting in the extra time to really design a picture book-like illustration with lots of details and textures.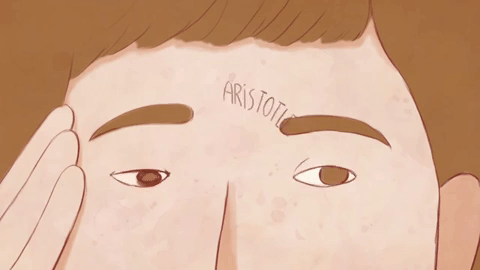 Spending so much time working on the depiction of one character, do you develop any sort of relationship to that character? Do you have any good anecdotes about getting to know Anna Komnene as a character in order to design her and bring her to life?
It was lovely learning more about this heroine. What really struck me was the information I found about people questioning the fact that The Alexiad, her account of her father's reign, could have been written by a woman. I realised how important it was for me to represent her correctly. That's also why I chose to mirror Anna and her father in the first and last scene. I wanted to show how many women also have an important role in history. And you can make a difference without using a sword! While animating Anna and Alexios, I used a mirror and acted out their movements and facial expressions. I had a ruler which I used as a sword and hopped around in the office. My co-workers even caught me making funny/crazy facial expressions while animating! That's why I think there's also a bit of me in the animation of Anna.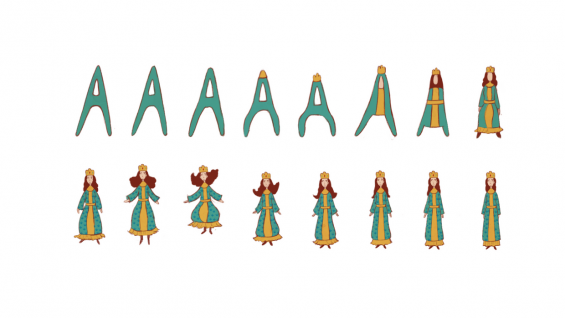 Tags:
Animation
,
Art
,
History