Iterative Design: How to solve a 'lion problem'
534,798 Views
777 Questions Answered

Best of Web
---
Let's Begin…
The design process is an incredible tool used by innovators (and students!) to create better and better solutions to problems or needs. If you've ever owned a mobile phone and have ever used a landline phone, then you know that the design process allows different and better iterations each time something is innovated. How can an iterative design process be helpful in solving a problem?
Create and share a new lesson based on this one.
Additional Resources for you to Explore
Richard solved his lion problem, not once, but three times.  Each
iteration
 or each solution he developed was better than the last. 
In this video, Richard teaches us that using 
iterative design
not only produces solutions, but he showed us that
iterative design
is a continuous loop of improving the solutions to his problem.
According to 
Tom Wujec of the Marshmallow Challenge
, teams can collaborate on solving problems using a loop between prototype (creating a solution) and refine (making the solution better).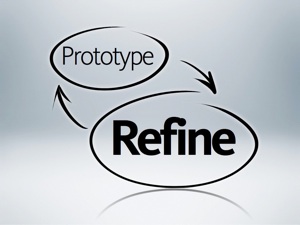 Also, Richard showed extreme resourcefulness in his use of recycled materials.
Imagine if more products were designed to ensure they can be recycled and used again.
By designing, re-designing and re-designing again, Richard was not only able to improve his solution for the lions, but he was able to improve his life as well as his family's life. 
What could you design to improve your life or the lives of others?
Create and share a new lesson based on this one.
More from Ingenuity in the Developing World