7 tips for teachers on how to create a safe school environment
By Laura McClure on May 1, 2017 in Interviews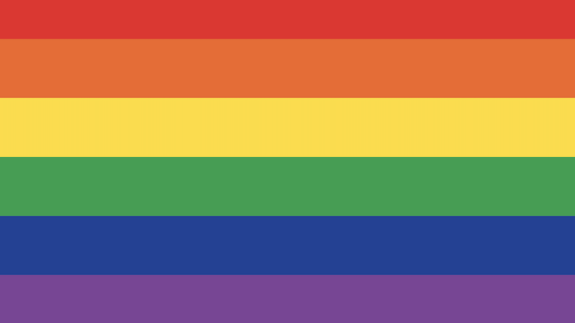 All children deserve to learn in a safe, supportive educational environment. One education organization working toward this goal is GLSEN, which aims "to create safe and affirming schools for all, regardless of sexual orientation, gender identity, or gender expression." Below, GLSEN ambassador and youth advocate Jeffrey Marsh offers 7 key pieces of advice for teachers in this excerpt from their excellent book, How To Be You:

I work with young people. They write to me all the time. They message me about their experiences. They communicate. They respect me. And there are a few magical things I've learned about how to treat them. If you really want to reach young people, if you want to know what helps them feel safe and cared for and ready to learn from you as an educator or school administrator or camp counselor, read on.
1. Really listen. Seems obvious, right? This is first because it is the most important. So many ills can be alleviated with concentrated respectful listening. You know deep down that you want to feel accepted and cared for and you want to feel like your opinions and experiences matter. The same is true for any student or young person you work with. Don't dismiss. Don't conflate. Don't belittle and don't rush any young person you're talking to. Take the care you would give to a close friend and give that to a student. Sit for awhile. Pause before you respond. Really pay attention. Don't cut them off. Listen. Also, don't get all high and mighty. Assuming what someone means without actually asking for clarification is a big fat CDE: communication dead end. If you want a student to show up, then you need to do the work of showing them that it's safe to do so. Along these lines, please ask follow-up questions. Don't try to lead the conversation, but lean into it: "What do you mean?" Can you say more about that? Asking shows you care — it shows you're listening.
2. Get to know the lingo. One of the best ways to show respect to someone from a different background or generation is to understand the terms they use — especially when it comes to how they define themselves. Some of my fans' Twitter bios read like this: "I'm an a-romantic pansexual trans-fem DMAB." I realized at a certain point that I needed a vocab lesson if I was going to be of any use at all! In my day (which wasn't all that long ago) we didn't use any of these terms. I needed to "meet them where they were" if I was going to connect with and help any young person. So I learned. I asked around. I found out what the terms were, what folks in school were using to define themselves and their experiences of the world. Knowing what the vocabulary was went a long way to helping me show that I meant business and was ready to accept and respect whoever I was talking to.
3. Lobby for safe spaces (or create them). Sometimes a teacher needs to be the one to advocate for the use of school space for clubs and gatherings that the school deems controversial or unimportant. Whether it's an LGBT or religious or just a hobby club, young people need at least one safe space to make connections with peers and find out they are not alone or freakish or as weird as they may be thinking. A safe space of this kind has several hallmarks. It is clean and respectful. It is private. It is free from other activities and groups. It is free from haters and bullies, whether they are students or teachers who disagree with what the club is offering. If a school refuses to allow a safe space that you know your students need, look for ways to assist with the club outside your school.
4. Take a forthright unequivocal stand against bullying. In big ways and small ways, in your private life and in your public persona as an educator, you must take an anti-bullying stance. If any student senses an attitude of "Boys will be boys" or "Kids need to toughen up" or "It's not that big of a deal," you've already lost them. If you aren't willing to take a strong no-tolerance policy against bullying in your own school or classroom, you will never reach your students effectively. I'd recommend zero tolerance. If you witness bullying or you find out it's going on, you must show all the kids involved that bullying behavior has real (negative) consequences. Many schools have a structure in place for this kind of disciplinary action and my advice is to use that structure without hesitation. If you want to reach young people, you must be willing to respect them by keeping them physically and psychologically safe while they learn. Work to make your school's anti-bullying policy comprehensive. An appropriate policy should cover gender, race, sexual orientation, gender identity, and all the reasons that kids are bullied.
5. Get help if you need it. Don't believe the lie that you need to do it all yourself. You are not alone. There are a ton of organizations (GLSEN, for example) that love to help make schools safe for everyone. So Google for help. Reach out. Don't get caught up in thinking that communicating with and helping students is all up to you.
6. Honor their experience. Just because you're older and probably wiser doesn't mean you're right. If you disagree with a student, try interacting with them as you would with an adult. For whatever reason, many teachers just tend to assume that a student's views and experiences are a little less valid than an adult's. Why do we do this? It seems basically arbitrary in most respects. Sure, a young person is less like likely to have the depth and breadth of experiences that an adult has had, but that may not always be true. And if it is true, does it automatically mean that their opinions and experiences are somehow less valuable? Well…no.
7. Give yourself some credit. If only for just a moment, don't judge your performance as a teacher; don't get down about how you're not doing this "right." See yourself from the outside. Take note of how hard you're trying. Notice how hard the profession of teaching can be. And notice how deeply impactful you are every day. We all remember the teacher who inspired us, who was nice to us when we needed it, or who we felt really got us. You're changing lives, and it's totally okay to acknowledge your good hard work enthusiastically and often.
Author bio: Jeffrey Marsh is a youth advocate and the author of How To Be You.

To learn something new every week, sign up for the TED-Ed Newsletter here >>
Tags:
Books
,
Bullying
,
Gender
,
Gender Spectrum
,
GLSEN
,
How To Be You
,
LGBT
,
LGBTQ
,
School
,
Teachers
,
Teaching & Education
,
Transgender