TED-Ed Club Connect Week is Jan 19-25: Reserve your spot!
By Ashley Kolaya on January 6, 2016 in TED-Ed Clubs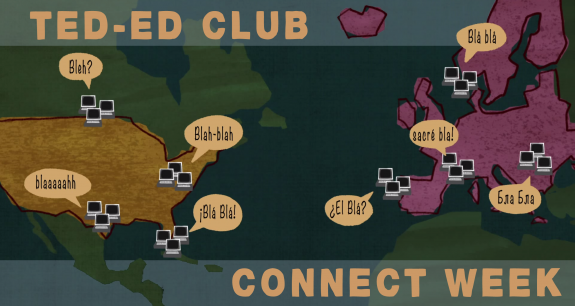 Last year, TED-Ed Club Connect Week launched a spontaneous global dance party that began trending in the TED community and hasn't stopped since! Who knows what 2016 will bring? Connect Week is Jan 19-25: Reserve your spot now! 
Connects are global online meet-ups for TED-Ed Club members from around the world. When you join a Connect, you join an hour-long, real-time dialogue with club members all over the world.
During Connects, club members have the chance to learn and chat about everything from the local favorite midnight snack to the latest trending hashtags. But the main purpose of Connect sessions is to let students share their Big Ideas with each other and trade tips, tricks and supportive feedback as they prepare for their TED-Ed Club Video.
Our last Connect Week of 2015 brought together more than 500 students from over 29 countries. Our goal is to double that number in 2016, and we need your club to help.
Make sure to secure your club's spot (or let us know you're opting-out) by FRIDAY JANUARY 8! Sign up here.
If you still need more convincing, check out this video of Connect Weeks past.
More than 10,000 students are now sharing and presenting their ideas in TED-Ed Clubs around the world. Interested in starting a TED-Ed Club at your school? Find out more.
Tags:
TED-Ed Club Connect Week