6 school gifts recommended by teachers
By Laura McClure on December 14, 2015 in TED-Ed Innovative Educators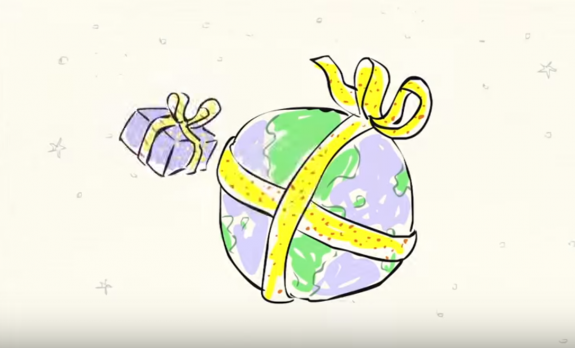 What are the best gifts for teachers and schools? What can people donate to help students, both near and far? We asked the TED-Ed Innovative Educators for advice. Below, 6 school gifts recommended by educators:
Grocery store gift cards + "weekend bags" of healthy food.
One way to help students is to help struggling families. "If a student is worried about eating, or they are going hungry, then they aren't going to be focused on learning," says Craig Zimmer, an educator with the Durham Catholic District School Board in Ontario (CANADA). Grocery store gift cards are a great thing to donate to school counselors, so they can pass them on to families in need. Why school counselors? Because they often know what's going on at home with students, even if other poeple don't. "Often these students just try to blend in, when in reality they have really important needs," says Kim Preshoff, a teacher at Williamsville North High School in New York (USA). Another option: Give a bag of healthy groceries for the weekend. "Some kids don't get meals outside of school, so weekends and days off are horrible for them," says Rita Kitchen, who teaches at Hilliard Weaver Middle School in Ohio (USA). A "weekend bag" of food for their family — i.e. a grocery bag of fresh, healthy food to help them get through the weekend — can have an immediate positive impact in a student's life.
Weather-appropriate clothing donations.
Particularly in cold weather, there is a huge need for clean, untorn clothing for needy kids. Appropriate clothing donations may include: jeans, coats, hats, gloves, socks and boots. "Our students all wear uniforms, which can mask socioeconomic status, and we're not a Title I school — but in only 3 years in existence, I've seen things change overnight for some families," says Vicki Albritton, who teaches at the STEM Academy at Bartlett in Georgia (USA).
Art + school supplies.
Basic art, school and craft supplies are always in demand. "I've had families who can meet the basic needs, but extra paper or a much needed binder are luxuries. Also, students always need craft supplies. Imagine not being able to practice how to write or color or create because your family can't afford the basics like crayons, glue and craft paper," says Karen Goepen-Wee, who teaches at Rundle College Academy in Alberta (CANADA).
Sponsorship of student experiences outside of school.
Museum trips, hands-on excursions, field trips — you can help to create "extra" student experiences. Your support can make a world of difference in the lives of students, whether you're funding field trips or leading a nature hike, says Jennifer Hesseltine, who teaches at Malone Middle School in New York (USA).
Time spent with professionals in different careers.
Students need role models — and adult mentorship. Whether you're an scientist, explorer or artist, your experiences can benefit students. "The opportunity for kids to engage with professionals will help with relevance," says David Miyashiro, superintendent of the Cajon Valley Union School District in California (USA). And it doesn't have to be in person — you can talk to student groups halfway around the globe via video calls. "Many of our kids just want an adult to listen and guide them and . . . be there (even if it is "virtually')," says Mitzi Stover, who teaches at North High School in Torrance, California (USA).
Content-related "stuff" for students.
Anything that fosters learning, inventing, and/or playing is great. If you're a parent, look to your own kids for inspiration. "If there's something your child really enjoys at school; microscopes, robots, dancing classes, etc., consider donating that item to a local school in need. Get your child involved with the purchase and delivery," says Nola-Rae Cronan of the Cranbrook Kingswood Middle School for Girls in Bloomfield Hills, Michigan (USA). Want a specific idea for an awesome gift? Try a Makey Makey invention kit, suggests Nicholas Provenzano of Grosse Point Public Schools in Michigan (USA). Want to give a teacher exactly what they want? Go to Donorschoose.org and pick a wishlist, suggests Dylan Ferniany of Birmingham City Schools, Alabama (USA).
For more recommendations from teachers, sign up for the TED-Ed weekly newsletter here >>
Featured image from the TED-Ed Original: What is a gift economy?
Tags:
Gifts
,
List