Animation basics: What is pixilation?
By Lisa LaBracio on November 18, 2015 in News + Updates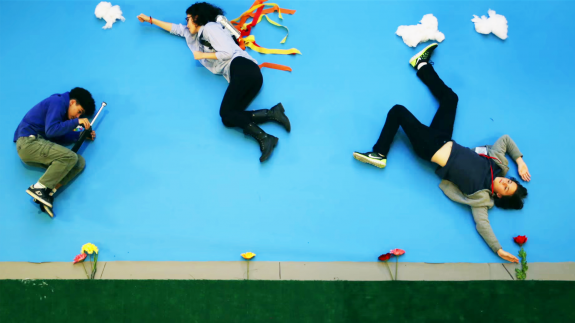 There's a word for the stop-motion animation of humans: pixilation, a technique made famous by Norman McLaren. The TED-Ed Animation team loves making pixilation, but we rarely have the opportunity. Below, learn how we did it at this year's TEDYouth conference — and watch the final animation!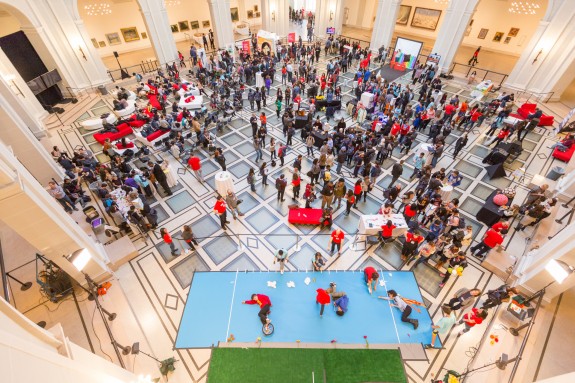 We've done a lot of stop-motion animation at conferences, but it's pretty tough to make pixilation in a crowded room. Then I helped out with an awesome filmmaking camp this summer, OMG Cameras Everywhere, where they did a similar project using a ladder. So when we saw the balcony above the Beaux Arts Court at the Brooklyn Museum, it dawned on us that we could actually create a MASSIVE camera stand at TEDYouth, and take the pixilation to the floor.
Theme: "A street scene in the future"
To prepare for the TEDYouth animation workshops, Franz and I made a shopping list that included AstroTurf, plastic dinosaurs, and gemstones, which really made me smile. And with that, I set out on a crazy adventure of purchasing PolyFill, scrap fabric, boas and streamers, all in my neighborhood craft 99-cent store. While local establishments had a surprising number of things on my list, I noted a few things that it didn't really make sense for us to buy. Luckily, TED-Ed is home to a few hoarders. We also got the whole team to scrounge up costumes of Halloweens past.
Our wish list of props:
-Pilot hat/goggles (like this)
-A very long scarf (like this)
-A cape (think superhero, not vampire)
-An all wood broom (like this)
-A spacesuit
-A jetpack? Or like, a super cool silver backpack?
-Any other fun costume accessories that are not too 3-dimensional — what I mean is that kids will be laying down on the floor in these costumes in order to be animated, so a top hat or a giant helmet is not really gonna work out.
Nerd fact: the set itself was 16 feet by 9 feet.
We genuinely had no idea what to expect, but we are so very stoked with how the whole thing came out:
What's more: it was a TON of fun. It's not easy to be an actor in an animated movie, so we applaud our participants. Thanks so much for being in our movie! Also, we'd like to give a special shout out to the TED-Ed student animation team: Grace, Miles, Raul, and Gennoah!
To learn more about animation, watch this TED-Ed Lesson series.
To find out about future TED-Ed Challenges, sign up for the TED-Ed weekly newsletter here >>
Tags:
Animation
,
TEDYouth 2015