10 poems to read on National Poetry Day
By Laura McClure on April 13, 2015 in Interviews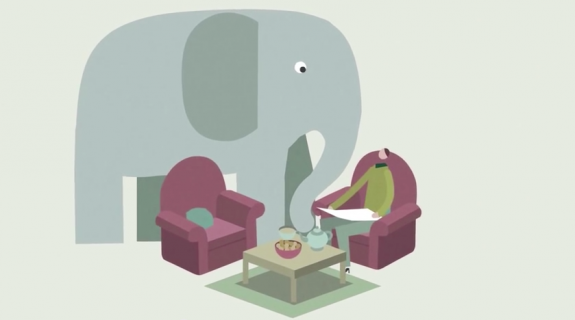 In honor of National Poetry Day, TED-Ed asked writing teachers at the San Francisco Writers Grotto to recommend their favorite poems worth sharing. Below, a short poetry reading list for TED-Ed learners of all ages.

Constance Hale, author of Sin and Syntax: How to Craft Wickedly Effective Prose, recommends:
"Design" by Robert Frost
For younger readers, I would go with some of the easier Robert Frost poems, which would set the stage for the more complex ones. "Design" is a great one for middle school students, allowing a good discussion of imagery and metaphor and rhyme (when it works and when it doesn't) and structure … and the lessons of nature. Pair with the TED-Ed Animation: The art of the metaphor.

Caroline Paul, author of Lost Cat: A True Story of Love, Desperation, and GPS Technology, recommends:
Billy Collins, in general
Poetry is about concision, beauty — and the sudden swerve that tweaks the reality we thought we knew. With Billy Collins, there's no pedantic tone, no overwrought adjectives. His poems are the verbal equivalent of a swimming hole — simple yet revelatory, familiar yet surprising, speaking right to the most primal parts of us. Pair with the YouTube animated video of "The Country" by Billy Collins.
"Percy and Books" by Mary Oliver
I love the way Mary Oliver pokes fun at herself, realizing that poetry is paltry next to a day romping about in nature. But her dog has also provided the very essence of the poem, so the joke is a bit on him too. 

Ethan Watters, author of Crazy Like Us: The Globalization of the American Psyche, recommends:
"The Snow Man" by Wallace Stevens
Pair with this audio recording of the NPR All Things Considered episode in which American linguist Samuel Jay Keyser explains why he thinks this Wallace Stevens poem is the best short poem in the English language.

Julia Scheeres, author of A Thousand Lives: The Untold Story of Jonestown, recommends:

"The Raven" by Edgar Allan Poe
This poem is creepy as hell and even after all these years, it still makes the hair stand on the back of my neck. Kids love a good scare, and this one is very atmospheric. Pair with the TED-Ed Lesson: A refresher on Edgar Allan Poe.

Grace Rubenstein, multimedia editor of TED Books, recommends:

"What the Living Do" by Marie Howe
Marie Howe wrote this poem to her younger brother after he died of AIDS. To me, the poem captures how mundane are the details of everyday life, and how flawed and absorbed we humans are in the business of our daily selves — and yet at the same time it manages to step back and see all of that from a grand perspective and thus illuminate its beauty. For high school students, who are often even more wrapped up in their own worlds, perhaps it would give them some sense of the fleetingness and tenderness of life, and of each life's place within the greater whole. Pair with the TED Talk: Sarah Kay: If I should have a daughter ….

Thaisa Frank, author of Finding Your Writer's Voice: A Guide to Creative Fiction, recommends:

"Assurance" by William Stafford
I love this poem because it is a simple message and ends simply (and surprisingly) because some of the language is beautiful and complex. Stafford creates a sense of the world he is talking about and pulls the reader in to participate. This poem has never failed to move people when I've shared it. Pair with the TED-Ed Animation: Become a slam poet in five steps.

Susan Ito, author of The Mouse Room, recommends:

"Kindness" by Naomi Shihab Nye
I have many favorite poems but here's one. It acknowledges the suffering we all feel, and offers a response. Pair with the TED Talk: Clint Smith: The danger of silence.

Lorraine Sanders, tech journalist, recommends:
"Harlem" by Langston Hughes
There is a mix of pathos and power in this poem. It reads, to me, both like a suggestion and a warning. Something that says, 'Here are the options you face. Which fate will be yours?' Pair with the Crash Course educational video: Langston Hughes & the Harlem Renaissance.

Bridget Quinn, whose sports memoir was excerpted in The Best American Sports Writing 2013, recommends:
"A Dialogue of Self and Soul" by William Butler Yeats
I've loved this poem since I first read it as a teenager, in a collection of English language poetry I found in the high school library at Kristiansand Katedraleskole in Norway. The last stanza became sort of a pole star of how I wanted live my life. In rock star terms: No Regrets! A sweet ending, might seem too sweet, but it's earned by the grit of previous lines. Thirty years later, at age 47, I still think it's a great life ideal to strive for. Sometimes I recite it to myself when things feel dark. And it helps. If that's not the power of poetry, what is? Pair with the TED Talk: Stephen Burt: Why people need poetry.
What's your favorite poem worth sharing? Let us know in the comments. »
Tags:
National Poetry Month
,
Poetry
,
Reading List
,
San Francisco Writers Grotto