Success is a continuous journey
Video from
TED
YouTube Channel
We will talk about how success is a continuous journey. Richard St. John will share his personal experience with us. We learn from our own  and others' mistakes.  I hope you can gain some from this lesson. 
Additional Resources for you to Explore
In this lesson, we learned that in order to be successful, we need passion, work, focus, push, ideas, to improve, to serve, to persist.To know more about 
the 8 secrets to success
.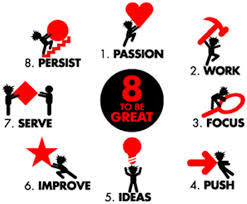 Is there any more factor you think that would lead you to success?
Write down your ideas, then reading the following articles and see if you agree with them.

5 factors to success


12 Things all successful people do
I hope after this lesson, you can have a better understanding of how to succeed. It is not a easy thing to do, but with passion, work, focus, push, ideas, improve, serve, persist, you are guided in the right direction. There are ups and downs in life, just keep in mind that we should never give up.