How false news can spread - the footloss of a lie
Video from
TED-Ed
YouTube Channel
(Original lesson created by Noah Tavlin) 
News are reliable , aren't they? Serious newspapers are ... trustworthy. What all say must be true? The speed with which information spreads now, however, has created the ideal conditions for something called 
circular reporting
.  Noah Tavlin sheds light on this phenomenon.
There is a task in the "dig deeper" tab concerning more 
hoaxes
...
Additional Resources for you to Explore
Since news sell better, the more sensationell and breathtaking they are, people have created hoaxes ever since. Let's check some hoaxes of history... 
The greatest HOAXES of mankind
The Cardiff Giant:
One of the earliest hoaxes of modern times, in 1869 workers digging a well near Cardiff, New York unearthed a massive 10-foot tall statue of a giant that many believed at the time was a "petrified man" and evidence that the biblical passage concerning the existence of giants once living on the earth (Genesis 6:4) was true.
However, the "petrified man" actually turned out to be the brainchild of one George Hull, an atheist and tobacconist from New York City who was intent on besting a Christian fundamentalist with whom he had argued over the biblical passage. Hiring a stonemason to carve the image of a man out of a massive piece of gypsum and burying it on the farm if his cousin, William Newell, it was "discovered" there a year later and served as a source of income for mister Newell—who charged people a quarter to see it—for the next few years.
Hull turned out to come out ahead in the affair, however, by selling his interest in the statue to a syndicate of five men headed up by Newell for $23,000—ten times the amount he had spent on the hoax. In the end, however, the scammers were scammed themselves when none other than the famous showman, P.T. Barnum, made his own copy of the Cardiff Giant and declared Newell's a fake. The case ended up in court, with Hull admitting to the fake and both statues being declared a hoax by the courts.
(source:taken from: .ourcuriousworld.com/PDFs/Top%20Ten%20Greatest%20Hoaxes.pdf) 
What about some more? 
Get over to
Mentalfloss: Greatest hoaxes of all time
and get some more ideas. 
Students Work:
Pick and choose
the story you like best and present it over to our team.
Support your presentation with a few pictures and deeper digging. 
Have fun and do not forget to visit TED.ED for more great lessons!!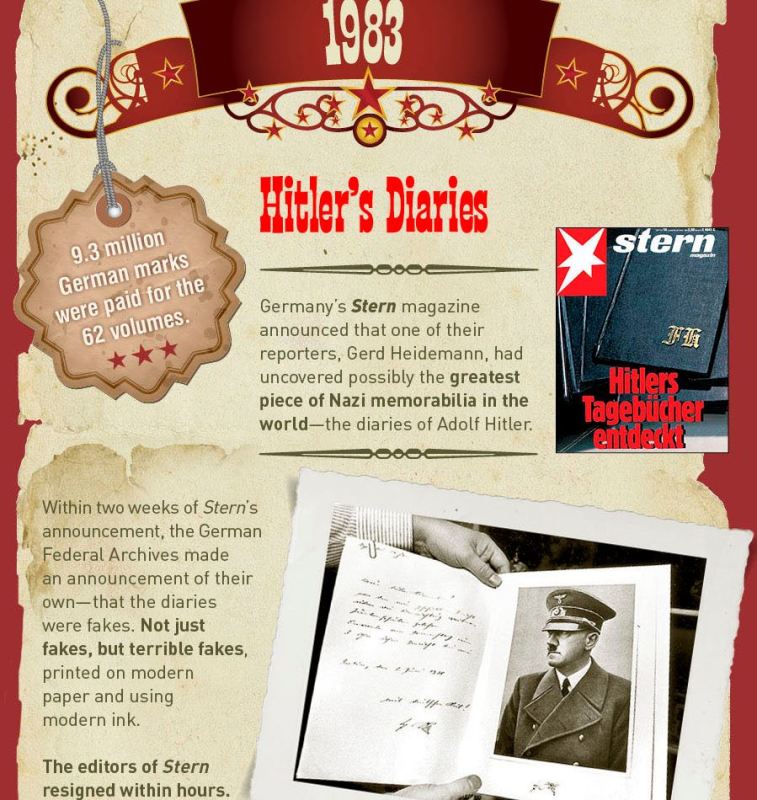 Remember this HOAX in Germany?
Question is, why do people either:
create hoaxes...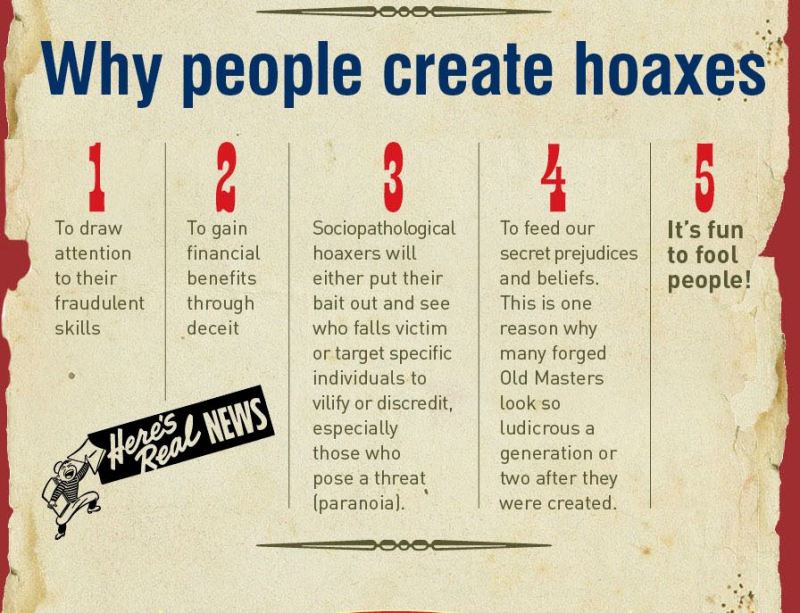 (source :http://www.bestpsychologydegrees.com/hoaxes/)
"People are stupid. They will believe a lie because they want to believe it's true, or because they are afraid it might be true."
―
Terry Goodkind
,
Wizard's First Rule
In a world of limitless information sources, we love to be informed, and love to inform. So rarely we care about the truth behind a sory, as soon as it turns the spotlight on our stage! 
"The language of lying..." 
WHY not trying the next lesson: 
The language of Pinocchio
... where Noah Zandan uses some famous examples of lying to illustrate how we might use communications science to analyze the lies...
See you next lesson - Ute Bescht 
Ute Bescht | Dali68 Webpage
In the times of social networks, first to name Facebook, users have the freedom to post and blog and put their views, stories and quoted lines to a global community. We often read stuff, which soon turns out to be false information, but the ball is rolling. Question is: should posts be censored by a panel of members. Should there be some sort of a "blacklist" for words? Any ideas to stop the vicious circular reporting?